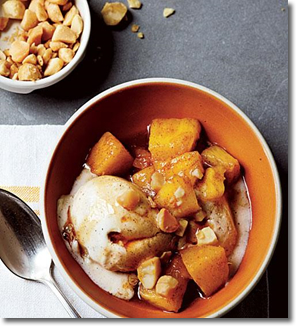 This sundae also makes a great breakfast parfait – just substitute plain Greek yogurt of your choice for frozen!
Author: Kate
Serves: 4
Ingredients

3 tablespoons brown sugar
3 tablespoons fresh orange juice
1 1/2teasponns honey
½ teaspoon ground cinnamon
½ teaspoon ground ginger
2 cups coarsely chopped fresh pineapple
¼ cup macadamia nuts (or a nut of your choosing) optional
2 cups vanilla frozen Greek yogurt
Preparation
Preheat broiler to high.
Combine first 5 ingredients in a medium bowl, stirring well with a whisk. Add pineapple; toss to coat.
Spread pineapple mixture in a single layer on a foil lined pan. Broil 5 minutes or until bubbly.
Place nuts in a skillet; cook over medium heat 3 minutes or until lightly browned, shaking pan frequently. Spoon ½ cup yogurt into each of 4 dessert bowls. Top each serving with about ¼ cup pineapple mixture and 1 tablespoon nuts.
Enjoy!