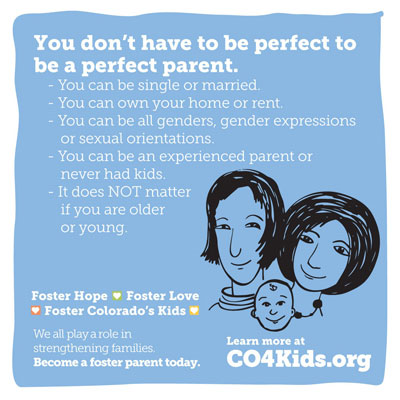 A little background
Family Resource Network and Kaleidoscope Counseling has a home office located in Colorado Springs; however, licensure is provided to families throughout the state of Colorado. Family Resource Network and Kaleidoscope Counseling completes the licensure process for kinship; respite providers; and foster and adoptive families. This process is inclusive of the home study background checks; home inspections; and trainings and supports. At Family Resource Network and Kaleidoscope Counseling, we take pride in our foster parents and the quality care that they provide to the families and children that we serve.
The Process
The licensing process typically takes between two and four months to complete. The process includes multiple trainings which are required, and the assessment process is time consuming. When an initial application is turned in, we must review it to ensure that the person or family is qualified to provide foster care according to regulations. When this determination has been made we move forward with background checks through Colorado Bureau of Investigation, Department of Human Services, Department of Motor Vehicle, Federal Bureau of Investigations as required and Central Registry.
We also refer the prospective foster parents to any necessary training (Core, First Aid and CPR). When the paperwork and trainings have been completed, we move forward with the home study process. This includes an in-depth assessment of everyone in your home. This process may feel very intrusive but is necessary to determine the appropriateness of the applicant in regards to life experiences, parenting styles, willingness to work with birth families, etc. When the home study is complete, it must then be approved by our clinical placement supervisor. Though the licensing process seems time consuming and tedious, it is very necessary to ensure that we are basing decisions off of a clear, concise assessment of the family in order to provide a safe and nurturing place for the children and families that we serve.
Some Requirements
Must be at least 21 years old
Current Driver's License
Current Car Insurance
Current Renters/Home Owners Insurance
Provide a loving and safe home
Willing to work in best interest of children and families
Submit to background checks
Pets and people in the home must have clean bill of health
Home must be in safe condition
Must be financially stable
Must obtain First Aid and CPR certification
We assist with the certification and licensure of several types of homes to include:
Regular foster homes can have no more than four foster children
Needs Based Homes are certified for a maximum of six youth. Needs Based Homes will care for children and youth who require foster care services with some aspects of higher level care and coordination. The children or youth have more substantial health and medical needs and their needs regarding supervision, transportation, education, medical and contact are substantially more than those of many children or youth in regular foster homes. Reimbursement rates for Needs Based Homes are significantly higher than for regular foster care. This allows for the Needs Based Home parent(s) to not have outside employment. Caring for the children and youth are a full-time job.
Families can be:
Single or married
Rent or own house/apartment
Have children or not
Click here to download the application. After completing the application, please send it to:
Family Resource Network and Kaleidoscope Counseling
5360 N Academy Blvd. Ste 130
Colorado Springs, CO 80918
or fax it to: 719-227-7474