COVID-19 has completely wrecked our normal routines and schedules; kids and parents are home from school together all day, every day. Parents are helping kids with online learning and practicing their long division skills, and some children may not fully understand why all of society has shut down for the time being. Now more than ever, we want to encourage you to create structure in the home and spend intentional, quality time with your families and the children in your care.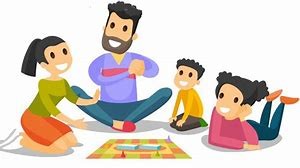 That may sound weird, since you have been in the same house together for almost a month now, but this intentional time is very easy to forget about as we are adjusting to the new "normal". Kids who have experienced trauma need structure and familiarity; they may also need to feel a sense of control. As your family settles into working from home and online learning, come up with a structured routine for kids! What does morning time, schoolwork, and bedtime look like now? How can we achieve a sense of normalcy? What can stay the same and what do we need to loosen the expectations on? These are all important questions to be asking and thinking through during this unprecedented time. Remember, it is okay to be flexible and modify the schedule and expectations. This is also modeling an important skill for the kids in your care; it is teaching them how to respond to change in a positive way.
As you adjust your routine, schedule a family activity together! This is so important for reinforcing the attachments and felt safety of a child in your home. Have a movie night, game night, or play a game of soccer in the backyard. Make it a priority each day to utilize some method of positive reinforcement, further encouraging bonding moments and felt safety for a child. Praise them for getting their schoolwork done, give a high five for completing their chores, or a bear hug for making positive choices. Get creative, ask your child for input, and have fun together!
The COVID-19 restrictions can still provide us with the opportunity to connect, provide safety and structure, and strengthen our relationships with those in our care. How can you be intentional with this time together?